THE BRANDOS BIOGRAPHY
written by Dave Kincaid


East meets West, Seattle Meets New Jersey - The Brandos sound developed from a merging of these two distinct attitudes and sounds.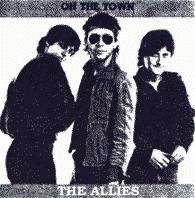 In the Fall of 1984, Larry Mason and I were playing the Seattle club circuit as members of The Allies, one of the hardest working bands on the scene at the time. With a local radio hit - 'Emma Peel' - critically acclaimed recordings, and a video under their belts, The Allies worked a minimum of six days a week, playing all over the northwestern US and up into British Columbia, Canada. At the same time, New Jersey based Soul Attack - with Ernie Mendillo and Ed Rupprecht - were playing gigs in and around their home state, with occasional jaunts into New York City. They had also made and released a local record in 1984. Having played in The Allies since its beginnings in the summer of 1979, and feeling that the band gone as far as it could, it was time to move on. The Seattle scene was small and unknown at that time, and I had to be where one might find a better chance of receiving national and international attention. There was only one choice: New York City. I had never been there, but it was and is the premier cultural city in the states, and had a great music scene. I packed up my guitars, demo recording gear, a few clothes and landed at La Guardia airport on a bitter-cold night in early February, 1985.

Immediately upon arrival I began scouring the local music papers, namely the Village Voice, looking for a new band. Soul Attack had just lost their principle singer / songwriter, and had just placed an ad looking for a replacement. Their ad mentioned "REM, Creedence and Motown" as influences. The first two were perfect, the last one not so much, but I thought I'd give them a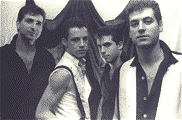 try. By mid-March and two auditions later, with both sides mulling it over, it was decided that I would join Soul Attack. From the start it was clear that Ernie, Ed and Dave were on the same wave-length. Their drummer, on the other hand was on another page altogether. I soon came to the conclusion that it was time to start over - new name, new drummer, new songs... everything. I had a little trouble convincing the other two guys, who, sick of meaningless gigs on the Jersey shore, were clearly frustrated with the situation. By June, the three of us and a drum machine were hard at work in my Brooklyn apartment recording new songs on a 4-track cassette deck. Some, like 'Nothing To Fear' and 'Walk On The Water', were songs that I had done in the last days of The Allies. Most, such as 'Hard Luck Runner' were brand-new. All of them got a strong dose of New York attitude and intensity... we knew from hearing the first playbacks that we had something.

After a few more months of recording and developing our sound, we were ready to play live. We first had to have a name. Ernie and Ed told me the story of how they used to disguise themselves in sunglasses and different clothes, and play 50's and 60's cover-songs as their own support act for Soul Attack. TWhey called this mock-band The Brandos, after Ed had seen 'The Wild Ones' with Marlon Brando. It struck me that the name fit perfectly what we were doing. The other guys agreed and what has begun as a joke, became in all seriousness our new moniker: The Brandos.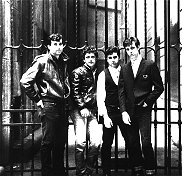 Of course we were going nowhere without a drummer, and placed an ad of our own in the Voice, beginning the torturous process of auditioning drummers. After a week or so of being exposed to the subculture that answers every ad in that paer, I suggested we avoid this whole process, and see what my old band-mate Larry Mason was up to. Larry was thrilled at the prospect, and in November booked a flight out for the 'audition'. As predicted, eh fit in perfectly and made plans to move out to New York, arriving at the end of January 1986.To someone on the outside, our first live gig that February may not have looked very impressive - a college fraternity party in New Jersey - but to us it was the beginning of a great career of live work. Fueled by the great energy from this first show, we then concentrated playing in New York City, anywhere and everywhere we could. As long as we were playing, we'd get better, and would have a shot at success. Our belief in ourselves was indomitable and almost irrational, but with it we bulldozed our way through every situation. In May of that year we went to Seattle for our first tour, playing to packed houses in The Allies' old club circuit.

Returning to New York the band continued playing most of the city's most renowened clubs such as CBGB, Tramps, The Bitter End and Kenny's Castaways. By October we had enough material, and had gained enough live experience to make an album. With money loaned by family and friends, we entered Mix-O-Lydian studios in New Jersey that same month and began recording our first album. This was the beginning of a long association with that studio, and frienship with its honcho / enigneer Don Sternecker, with whom we would work on every subsequent album.

The gigs and recording sessions went on through February 1987, and during this time I continued writing new songs with songwriting partner Carl Funk. 'Gettysburg' was the last one written for the album, and from the start it was clear to everyone that this one was special. Armed with rough mixes from the album, I began shopping for a recording contract. Within two weeks we had two offers, the best one being from Relativity Records in New York, which we accepted.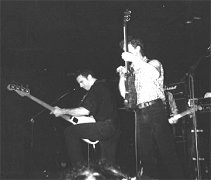 Riding high from having just signed our first record deal, The Brandos played their first European tour in Germany in May of that year. The tour was a roaring success, and set the stage for many more to come. At the end of August the release date for the album finally arrived, and the band began touring the states, opening for well-known bands such as The Gerogia Satellites, INXS and The Cars. The first video was released and received regular air play on MTV. The favorable reviews began to pour in: the Gavin Report dubbed us "Best New American Band", Rollign Stone ran a full-page story describing us as "Real Contenders", and Time Magazine clinched it with their quote "The Brandos roots run deep and offer great nourishment". In early 1988, that band won Best Album (Independent Label), and I was honored with the Best Male Vocalist (Independent Label) at the New York Music Awards.

During this period we were encouraged to take on a manager, which we did - a mistake from which we have never quite fully recovered. Under his advice and against my better judgement, we left Relativity Records, with whom we had a solid relationship, and went to Geffen Records. The move took 8 months of legal wrangling and ended up a disaster, and we again changed companies to RCA Records. In February 1989 The Brandos finally began recording our second album, slated to be called 'Trial By Fire'.

The effect of the long legal battle had a devastating effect on the band, and consequently we entered the studio extremely demoralized, with a huge debt hanging over our heads, as RCA had paid a fortune for our contract. The result was an album that took a year and a half to make, and in the end was lifeless and sterile at best. In June 1990, just as we finished the album, a new president took over the reigns at RCA. His first act in command was to drop almost every band on the label, to which The Brandos also fell prey. This was a tough time, as the whole music business in the states had collapesed, our country was heading into a deep economic recession and the Gulf War. Effort to take the new Brandos 'Trial By Fire' album to another label failed, and by the beginning of 1991, we realized that the album would never be released. We were going to have to start over. Living in a tough city like New York teaches you to be the same, and what would have destroyed most bands, only made us work harder.

The better part of 1991 was spent writing and recording new material for a new album that would become 'Gunfire At Midnight', which would land a contract with SPV Records in Germany in the spring of 1992 - good news in the short run, detrimental in the long term, as the band had unwittingly signed away all controll over its career in the US for the next six years. Extensive touring in Europe would follow, solidifying the band's fan base even further, although not without taking a heavy toll - in 1993 guitarist Ed Rupprecht and drummer Larry Mason decided they had had enough of the Rock n' Roll lifestyle, both dropping out of the music business, though Larry would reemerge in music working with Carl Funk.


Always the diehards, Ernie and I went on, and in 1993/1994 with the help of a few friends, especially ex-Del Lords members Scott Kempner and Frank Funaro, recorded our fourth album 'The Light Of Day'. For this one, I wanted to explore my musical heritage a ittle further, incorporating it into The Brandos sound, producing a hard rocking mix of The Brandos signature Rock n' Roll, and the older American and Irish music traditions. I'm of Irish background, having grown up with traditional folk music, Irish and American. We found this music to be great fun to play live, and the audience has responded to it so well.

Scott and Frank filled out the live band, and an extensive tour and live album, recorded in Amsterdam in December 1994, followed. Aptly named 'In Exile - Live' - in view of the stranglehold on the band's American career - the album captured both the power and energy of The Brandos' live show, being released in the late summer of 1995. Two years after the release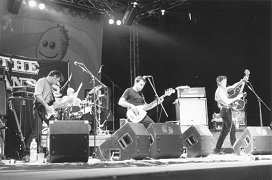 of our latest studio album, The Brandos returned in 1996 with 'Pass The Hat', debuting the strong vocal and guitar talents of new member Frank Giordano. Finally legally able, the band rerecorded and included four songs from the unreleased 'Trial By Fire' album. The album marked a return to a more stripped-down guitar sound, and ranks as one of the band's favorites. Taking off the first half of 1997 (allowing me to record my solo album, 'The Irish Volunteer'), The Brandso went back on the road with Frank G. and drummer Tom Goss for a European tour in July, and back in the studio in the fall to record our latest: 'Nowhere Zone'. This album is in a very real sense, a fan's album, encompassing at their request, songs played live for years by the band and never recorded, as well as new recordings of the remaining six songs from the unreleased 'Trial By Fire'. This album closes the book on that very painful chapter in The Brandos history, and opens up the path to new territory. Two great European tours follwed its release, this time joined by drummer Tom Engels, in December 1998 and June 1999, putting us on the stage with the likes of Bryan Adams, Van Morrison and Deep Purple.

With this 'Best Of' collection we celebrate a career of almost fifteen years with The Brandos. We have tried, with the songs on the this album, to represent the band from its very beginnings all the way to the present. I can both laugh and cry at the memories, and have no regrets. The rewards have been and continue to be many.

Dave Kincaid
New York City, October 1999.
From the booklet of 'Contribution - The Best Of The Brandos 1985-1999'