---
THE BRANDOS NEWS SECTION
---
Message from the road

Hello all,
The european tour is winding down, 2 shows left in Denmark. It's been a great one, thanks to all the folks who came and lent their support. The new live album/dvd is doing well too, which is a relief. This was not the band's idea, but that of the record company. It seems to have been a good one though. Now we'll go home, rest up a bit, and get going on a new album. We hope to see you all again very soon.
All the best,

Dave & Ernie
Los Brandos


---
The Brandos DVD release set for February 15

January 27, 2008 - Town, Sun to Sun live album CD/DVD box set scheduled for release on February 15, 2008 on Blue Rose Records. The DVD will include the entire set from German television's Rockpalast/Crossroads festival which took place at The Harmonie, Bonn on October 20, 2007. It will also feature seven bonus tracks from the October 24 gig at the K4, Nuremberg. The audio CD will feature most of the Nuremberg show, with a smattering of tunes from the Bonn gig. A DVD only version will also be available. This will be released on the European PAL system, and will only work in the States if you have a DVD player that will play all formats. If you haven't got one of these, it will play on any computer with a DVD player program. The band will be touring Europe on this new release in February and March 2008 (see tour info).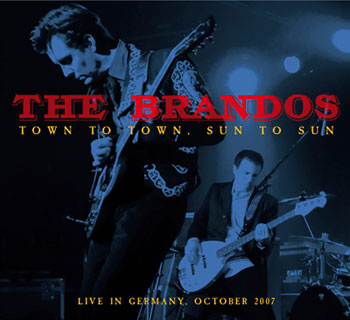 ---
A fanatic French Fan linked up

BeBop352 does missionary work in France, promoting the Brandos. Recently updated with a live video from Freiburg 2007 and a report on meeting Dave Kincaid in NYC. You can find the hyperlink at the links section permant or just click here.


---
Photographer Kees van Pelt provides photos for the artwork of Town to Town, Sun to Sun

Kees van Pelt, longtime hardcore fan and photographer can often be found front row at Brandos shows shooting film and nowadays microchips. Dave Kincaid personally contacted him for permission on using his photo for the just released Town to Town, Sun to Sun DVD/CD. An great honour for any Brandos fan and recognision of his art. You can find lots of Brandos Tour photography at his website.


---
Dave Kincaid plays Hiwatt Amplication UK

The Brandos' Dave Kincaid is now a proud endorsee of Hiwatt Amplification UK. An endorsement offer was made and gratefully accepted this last week, which means Dave will be playing through a new Hiwatt CP-504 Townshend amp head with a Hiwatt Fane-loaded 4 x 12 speaker cabinet on the upcoming european tour. While the sound of one of these amps can be heard all over the band's recent album, "Over the Border," it has been sorely missed on the live stage. We'd like to thank Hiwatt UK's Mark Lodge for making it happen.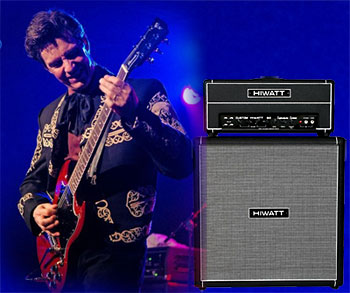 ---
The Brandos @ MySpace

The Brandos at myspace.com Like just about everyone else on the planet, it seems, The Brandos now have a page on myspace.com: http://www.myspace.com/brandosny


---
The Brandos Line Up for the 2008 tour

Our drummer, Patrick Fitzsimmons will not be able to tour with us this upcoming Brandos European tour. We are very sad to announce that due to circumstances beyond anybody's control. His great energy and drive as a drummer, as well as his sense of humor off stage, have made him a real Brando, and hell be missed very much by everyone on this tour. He'll get things sorted out though, and we look forward to his return. The only good news is that we were able to find a replacement pretty quickly: Phil Cimino, who comes to us by recommendation from Eric Ambel, will take the drummer's chair on this tour. They have done a lot of work together both live and in the studio, and Phil has worked with numerous other bands and artists, including John Cale and Chris Barron (Spin Doctors). Phil's got a tough job learning 2 hours of material in a very short time, but we know he's up to the task and look forward to working with him.

On this note, some of the fans have asked why there have been so many changes to the live band line up in recent years. We understand how this might be difficult to understand, but we can only say that it's not because we want it that way. We have three major factors do deal with: 1. finding the right people who fit in both musically and personally, 2. finding people who are available at the time we need to tour. 3. having the good luck that the two previous factors line up at the same time. We have suffered some hard luck with this recently, and are just hoping it stabilizes soon.


---
Happy new Year!

January 10, 2008 - The Brandos would like to wish everyone a very Happy New Year! We want to thank you all for your support this last year, and hope we see you again on our upcoming tour in February/March. As two of the shows were recorded and filmed during the last one, we will be releasing a live album/dvd, to be called "Town to Town, Sun to Sun," on the Blue Rose label. We've been hearing for years from the fans how much they'd like to see a DVD, and new we're happy to have one released. After the next tour we will begin work on the new album, which we hope to have out by the end of the year.

The band would like to express our sincere apologies to the fans in Potsdam and in Dresden, who were dissapointed during the last tour this October. Dave was struck with a pretty sever case of the flu during the tour, was barely able to sing at all in Postdam, and which caused the next show in Dresden to be cancelled. We very much appreciate everyone's understanding, these things happen sometimes, and we are determined to give you all a great show in the future.

European tour Feb./March 2008 - Dates for this tour are now on our tour page, and it's shapping to be a great one. On that note, we're very happy to announce the addition of Eric "Roscoe" Ambel (guitar & vocals) to the live band lineup for the upcoming european tour. Many of you will no doubt recognize his name, as the list of bands and artists Eric has played with is long an impressive, including the Del Lords, Rosoe's Gang, The Yahoos and the great Steve Earle. You don't want to miss this one...


---
The Brandos @ Rockpalast Crossroads-Festival

Blue Rose Records has provided us with an exclusive video of "Triangle Fire" performed live at Rockapalast Crossroads-Festival (October 20, 2007).


---
Release for a Live DVD set for February 2008

Edgar Heckmann from Blue Rose Records has provided us with an exclusive video of "The Keeper" (recorded live at The K4 Nuremberg). Blue Rose Records are working on the release of a Live DVD. An exact date is not yet set, but the DVD is expected to be released up and around the start of the 2008 tour (February 14th, 2008).


---
Tourdates 2008

The last tourdate of the Brandos 2007 Over The Border Tour is only a few weeks behind us, but plans for a tour in February/March 2008 are being made! Check the tourinfo section for the first (yet unconfirmed) tourdates! Check back frequently for updates!


---
The Brandos in the Rockpalast Bathroom Unplugged

Find a clip of the Brandos in Rockpalast bathroom here [realmedia].


---
The Brandos Take Root show broadcasted on November 4

The Brandos show at Take Root 10 recorded last October 6, will be broadcasted through the internet radio station http://roots.radio6.nl. Join in on November 4 from 19.00-21.00 (GMT+1) by clicking here. Unfortunately this site is available in Dutch only.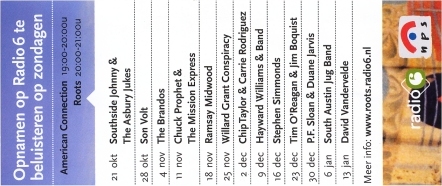 ---
The Triangle Fire documentary film project

Filmmaker Roy Campolongo is working on a documentary film on the tragic factory fire at the Triangle Shirtwaist Company in New York, March 25th 1911. Roy discovered the Brandos through the internet, interviewed Dave Kincaid and showed serious interest in using the Triangle Fire song, which features the story of the tragedy, for the film.
Read all about this project at the Triangle Fire Film's website


---
meet Ziga Stanonik

Slovenia based Ziga Stanonik will join the Brandos on their European autumn tour which starts in Ljubljana on October 4th. Ziga (guitar and vocals) and Ernie have been playing together in Slovenia. Patrick Fitzsimmons will return on drums to join the usual suspects
Ernie Mendillo and Dave Kincaid.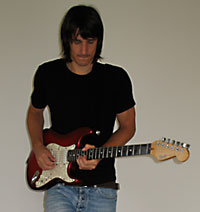 ---
Additional tourdate Ljubljana

The Brandos Over The Border 2007 Autumn Tour will start on Thursday October 4th at 9.00 PM at the Orto Bar in Ljubljana, Slovenia. Dave and Ernie will again be accompanied by Patrick Fitzsimmons on drums. Ziga Stanonik, who plays with Ernie frequently, will join in on guitar. Check the tourdates at the tourinfo section! See you all this autumn.


---
The Brandos on tour in autumn

The tourdates for the Brandos Over The Border 2007 Autumn Tour are available at the toursection!
(band => tourinfo)


---

Rare material at Blue Rose Nuggets

Blue Rose Records has released their 24th - mailorder only - Nuggets sampler. Blue Rose Records has been releasing these samplers for 11 years now featuring all news bands and tracks. Apart from the live recording "For What It's Worth/Feelin' Alright" by the Blue Rose Rockestra with Dave Kincaid an MPEG video of Over The Border (recorded live at "Blues Garage" in Hannover-Isernhagen December 26). is featured on the sampler as well.

Walking Home is featured on the 23rd Nuggets sampler, all are availalbe at the Online-Shop at Blue Rose Records.


---
Rolling Stone Magazine

The Brandos interview featured in the German Rolling Stone Magazine


---
Over The Border 2006 Tour photos

Both Kees van Pelt and Gerrit Jan van Pelt made photos at the Plato/Helmond show on December 22, 2006. Thanks.


---
New guitar chords

Chords for You'll Still Be Mine can be found at the tabs & chords section


---
Over The Border 2006 Tour photos at the photo section

There are photos of the Marburg concert at the photo section. Thanks to Robert and Petra!


---
Is the website still alive?

Yes it is. Due to personal problems and a change of server, I haven't been able to update the site for the last couple of months. Sorry for that, it won't happen again!


---
Full schedule for the December tour confirmed

Check the tour section for details! After a fair amount of chaos we now have a new lineup for the tour. Sadly our old pal James Mastro, who did the last few european shows with us, is not available for the December tour. But, he knows just about everyone in town and bent over backward to help us fill out the lineup. We're happy to announce that our new guitarist/vocalist is one J. F. Vergel, known on the New York scene from his years with the Irish-Rock band "Rogue's March." J. F. is a real rocker, brings a great energy to the band with a nice edge on his guitar playing and some great harmony vocals. On drums/vocals we have enlisted Patrick Fitzsimmons, originally from New Jersey and now living in Vermont. Patrick is an amazing, multitalented musician, previously a member of the band "From Good Homes" (also veterans of RCA Records), who was introduced to us through Don Sternecker of Mix-O-Lydian Recording Studio. We only wish we'd known about both J. F. and Patrick sooner, otherwise they would have been all over this new album as well. We can't tell you how much we're looking for to playing with these guys, and to the tour. We hope to see you all there.

Dave & Ernie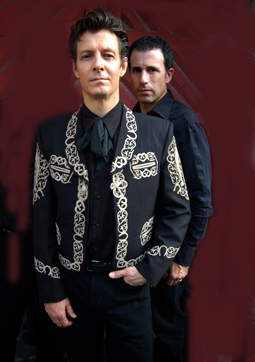 ---
The Brandos announce the release of their new album

Some very good news: we're very pleased to announce that we have reached an agreement with Blue Rose Records from Germany for the release of the new album in Europe. Edgar Heckmann, who started the label more than ten years ago, has been a long-time fan and we were happy to discover that he is still. A nice offer was put forward, which we accepted, and this a man who understands not only The Brandos's music, but also the fans of this kind of music, and we're genuinely looking forward to working with Edgar and Blue Rose. The new album will of course be called "Over the Border".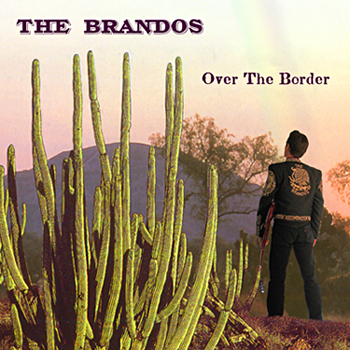 In the studio things have been rocking along, and we're delighted to be able to tell you about the appearance of some extraordinary musicians on this new recording. One is veteran ace keyboardist Andy Burton, who plays Hammond organ on three of the tracks. Andy has been a mainstay in the New York music scene for years, playing with the likes of Ian Hunter among many others. He's done great stuff on the album, and who knows? - maybe someday we'll get him out on the road with us. True to our long-standing tradition, there will be a couple of rockin' Irish tunes on this album, and renowned uilleann piper Jerry O'Sullivan, who some of you will know from Dave's Irish albums, gracioulsy agreed to play on two of the tracks. As always, Jerry totally smoked on these tunes (we think deep inside he's got a rock n' roll heart...). Another of the New York area greats is our old friend Dennis Diken, drummer of one of our favorites The Smithereens. We'd very nearly worked together at various times, Dennis has always rocked the house (and still does -make no mistake...) and it's a privilege to have him on two of the tracks. No doubt most of you are familiar with Free and Bad Company, who had a list of worldwide hits in the 70s. As fate would have it, Simon Kirke, the band's virtuoso drummer, now lives in New York and we were so fortunate as to get him in to play on a track, a new song called "The Only Love I Can Get." Considered by us (and by one hell of a lot of other people) to be one of rock and roll's all-time greatest drummers, he's still rocking like a monster and puts most drummers half his age or more to shame. Simon is the consumate professional and a real gentleman, and we're thrilled and honored to have him on our album.

Dave & Ernie

Over The Boarder will be released at the Blue Records label [BLU DP041] on December 1, 2006.


---
Two new sets of photos added to the photo (media) section

Thanks to Kees van Pelt and Hans Emmert!


---
A MESSAGE FROM THE STUDIO (by Dave Kincaid)

April 29, 2006 - Yes folks, believe it or not, the new Brandos album is moving along steadily and going very well. Ernie Mendillo has been in New York since the beginning of April to get his bass parts arranged and recorded, and to help out with the album recording generally. On April 19 we ventured out to Mix-O-Lydian Studios in the hinterlands of New Jersey with drummer Frank Funaro to tackle the recording of the drum tracks, along with other assorted overdubs. This work will continue for the next couple of months, and the plan is to have the album ready for release in the fall.

As has been prone to happen from time to time, The Brandos' lineup is again going through changes, and this may continue for a while till things stabilize. At this point we feel we should mention that guitarist Frank Giordano and drummer Tom Engels will no longer be playing with us. We can only say that in the last year or so it became clear that we were not moving in the same direction, and a change would be necessary before we really got going on the new album. Frank and Tom are both fine musicians, and we wish them all the luck in the future and with their careers.

The good news is that this opens up all kinds of possibilities for the band both live and on record. We have been talking with keyboradist Kenny Margolis (Cracker, Willy DeVille, The Smithereens) about contributing to the new album, and possibly touring with us in December. As many of you know, we have a few shows lined up at the end of July, and it looks like The Brandos' first drummer Larry Mason will be coming back for those shows, along with our old friend James Mastro (The Bongos, Ian Hunter, Janis Ian) on guitar.

The big tour this year will be in December on the new album, and our promoter Konzertbüro Emmert tells us that it will include: Berlin, Hamburg, München, Nidrum-B, Bonn, Hardenberg-NL, Tilburg-NL, Bremen, Aschaffenburg, etc. and many more.... We hope to see you all then. Check back for updates!

[to take a look in Mix-O-Lydian studios click here for some photos]
---
HAPPY NEW YEAR !!!

January 1, 2006 - The Brandos would like to wish a Happy New Year to all their fans, and may this new one be happy and peaceful, and bring us all together for some great musical experiences. And, we'd like to thank you all for your patience and understanding for the long silence. There are new things in store for the band (and the fans) in this coming year, and we're determined that they will be positive ones. The new album is going very well, we're excited about the new material, but it is, as ever, a big project requiring massive amounts of work. Being that we haven't made one in a few years, we're being careful to make the best one possible. Some of you have asked for hints on what it will be like. We can only say that it will be a rocker primarily, with some other things mixed in here and there to make it interesting. As for touring, as of this moment the plan is to play some of the European festivals this summer, then get back there again in the fall for the major album tour. More news will be forthcoming in the near future, so stay tuned. We look forward to getting back out there and rockin' the house!


---
Brandos New Album Released 2006

A message from the band emerged that the recording proces is in full progress! The band will probably be recording through the end of the year. It looks like The Brandos will tour festivals in spring 2006 and a clubs on a longer tour in fall. The album's release is due spring 2006. Fans, hold on for a little longer!


---
Interview with Irish Music Magazine [August 8, 2005]

A few months ago Dave was interview by the Irish Music Magazine. This interview will be featured in the August issue. It also features a story on the Milwaukee Irish Fest (August 18th-21st) where Dave and Frank G. will perform. Read about the magazine at http://www.mayo-ireland.ie


---
Interview on KZUM 89.3 Celtic Heartland [August 8, 2005]

On July 1st 2004 David Kincaid was interview live by KZUM 89.3 Celtic Heartland. Dave had just released his second Irish Volunteer solo effort. This one hour interview be listened to on-line in full extend at http://www.celticheartland.org


---
The Brandos working on a new album and tour announcement [July 1st, 2005]

After several months of hard songwriting, Dave, Frank G. and Frank F. have booked the Manhattan UltraSound Studio for rehearsals and refining arrangements of new material. Ernie is working on the demos in Europe and will join the band in NY by the end of July. The release of the album and accompanying tour are scheduled for December. Check back for updates frequently. See Dave's homepage for a photo of the guys in the studio.


---
David Kincaid Irish Volunteer Tour Schedule [July 1st, 2005]

David Kincaid will be performing songs of his two Irish Volunteer albums on several locations this summer. Check the tour section for more info.


---
Latest addition to the ever growing Brandos fancrowd [July 5th, 2005]

On January 19 a brand new Mendillo youngster was born. Named Carolina and in good health. Here are a few pictures Ernie sent us.